I am very busy learning all I can about my new chicks. I know my husband thinks I have gone off the deep end and baby when I go I go hard.
Went into Barnes & Noble and used a gift card to buy this book. I have read the entire thing. It is visually a lovely book and though I would love the thought of free ranging chickens out back when I am working I have decided that they will either be in their coop or in a mobile pen I have. I move it around and it is open on the bottom so they can scratch and pick and do the chicken thing. My big dog seems very interested in them and with a three year old who follows me everywhere, I foresee an unfortunate situation. I would hate for the dog to get a hold of them and harm or kill one.
So daily I head out to the coop and let them out of the house where they sleep and feed them and give them fresh water. I visit throughout the day and let them out to head to the mobile coop for a few hours or more every day. It was so hot this weekend they had to be in some good shade and nice cool dirt. They were happy to be under the grapefruit tree.
This is my favorite girl Illy. She has been a sweetie since she came home.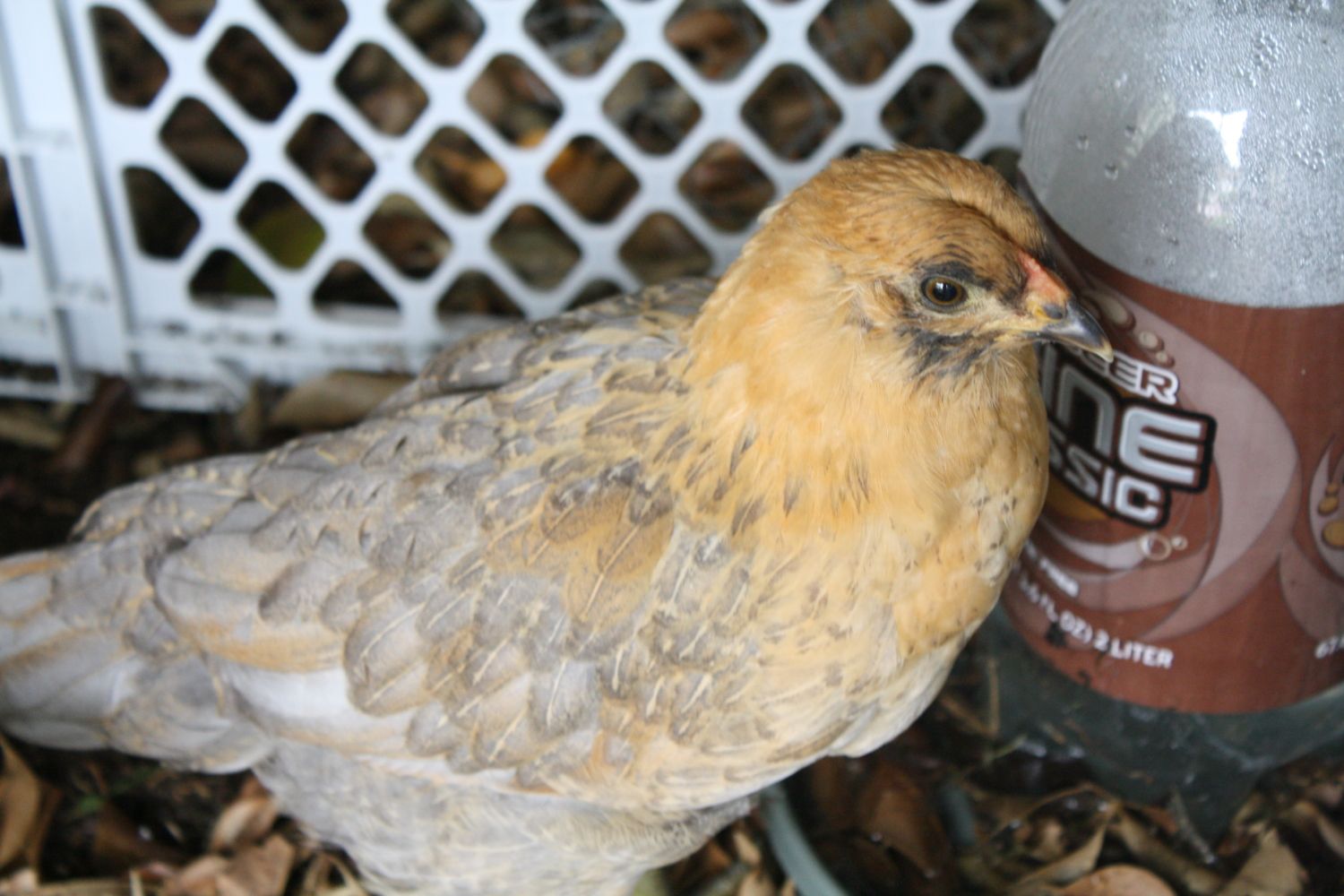 That is her drinking root beer. Kidding. I made a gravity waterer out of it but she had loads of leaves scratched up in there over the weekend. They get hot and have to have cool water to drink when it is hot so I put some ice in their bowl. They pecked and bobbed at it. They had ice cold cantaloupe and lots of grass clippings to pick through. We caught grass hoppers and cracked up as the chickens caught and ate them. They would not eat a big brown one though. Hmmm.
Today I snuck out for some quiet time with the girls and had three of them on my lap just hanging out and eating the oats I brought out. I have one that is stand off ish and my be a roo. Wouldn't even acknowledge
me. Stinker. Then wondering if he/she was missing something hopped on my leg and proceeded to take a poo. I saw it coming and flung my leg out of the way. Near miss. If you don't like poop, chickens may not be your thing but really the amount of poo four chickens leave compared to my big stinky pile laying dog is nothing. And dog poo is not good for anything so lands in the land fill. My chicken poo can be added to my compost to grow my garden. I will share a home made composter I made very soon.
Linking to:
Wow Us Wed.